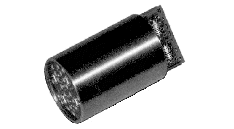 The Series 50 is a family of miniaturized, high shock, solid-state, 4-channel recorders designed to acquire transducer data in shock environments of up to 100,000 G's. The epoxy-encapsulated unit can be configured for a variety of transducer inputs to accommodate automotive crash testing, blast testing,
mining applications, weapons testing, or testing in hostile field environments. The Series 50 also includes 2, 4, or 8 additional digital channels (Model 51, 52, or 54 respectively) for recording events. Low power consumption allows instrumentation build-up weeks before the test and extends the time for data retrieval after the test. Data retrieval is accomplished using a personal computer. Software supplied with the recorder enables retrieval, storage, display, and printing of the data.
FEATURES
Small Size
1, 2, or 4 Analog Channels
2, 4, or 8 Digital Channels
12-Bit Resolution (4096 steps)
Low Power with 3.3 or 5 Volt Logic
Single Battery Operation
Differential Input
6-Pole Low Pass Filter
High Sample Rate
Pre-Trigger Data Retention
Software Support
Reusable
Expandable Memory (to 256K Data Points)
Additional documentation is available in the menu to the right (if you're on a mobile device, the menu is below).